Regular services at St Lazarus
On the 2nd and 4th Sundays of each month at 6.00pm, we have a full Anglican Communion service at the Amphitheatre in Pissouri.
Due to the shape of the room under the Amphitheatre, the congregation is sometimes seated in a curve. As the room is used for other activities during the week, everything needed for the service, including the chairs, has to be set up.
If you receive Communion in your home church, you are welcome to receive the bread and the wine, or you can receive a blessing if you are not sure.
Please refer to the 'What's on' page for further details and updates.
……………………..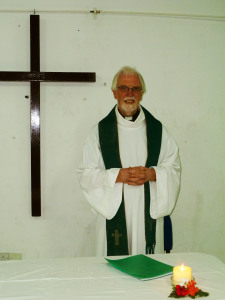 Special services
At various times throughout the year, we have additional or special services from the normal bi-monthly services. These usually include:
At Easter we hold an open-air service on the beach in Pissouri Bay or another local beach. (See Outreach, Easter Beach Service for more details).
Christmas Eve we have a 6.00pm Holy Communion service, and then the Chaplain races back to Limassol to do it all over again at St Barnabas.
Also on Ascension Day, someone kindly hosts an early morning Holy Communion service at their house.
Confirmation services. On the 29th June 2014, St Lazarus' marked another milestone in its church life with our first Confirmation Service. Bishop Michael came to confirm Drew, Karen, and Zoe. It was a special occasion for us in many ways. Bishop Michael presided, with our former Chaplain, Canon Derek Smith, All Saints' Chaplain Adrian Dyer and our Reader (as she was then, now a Deacon), Chris Goldsmith contributing to the service. For more details about confirmation, please go to the St Barnabas 'Confirmation' page or speak to the Curate, Chris Goldsmith, who will be pleased to discuss the process with you.
Confirmation 29 June 2014
On occasions during the year (when it's warm enough!) St Lazarus joins with the congregation of St Barnabas for a picnic lunch followed by a Holy Communion or Evensong service at St George's Church which is set in the Troodos Mountains.