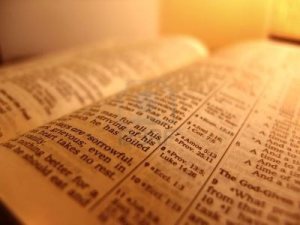 Why join a bible study group? Well bible study groups can be a source of encouragement, support and friendship. It is quite enlightening to hear different points of view on a scripture you may have read numerous times before, and that is how we grow as Christians.
"Let us not give up meeting together. Some are in the habit of doing this. Instead, let us cheer each other up with words of hope. Let us do it all the more as you see the day coming when Christ will return." Hebrews 10:25
The bible study group at St Lazarus is relatively new, yet for those who go regularly, it has proved to be a very rewarding time. There are only a few of us at the moment, but like the early church, we hope to grow. We meet informally every two weeks on a Wednesday in someone's house at 2.30pm. Occasionally our former Chaplain, Canon Derek Smith, would come along too and provide insightful and informative comment on our topic for that week.
If you are interested in joining us, please contact Linda Rowell, (mrs.lindarowell@gmail.com) or Denise Weaver, (denise.weaver@wisenexus.com), for details. You will be very welcome!
The group is currently looking at a study about spiritual renewal. 
Past studies have included:
Eight studies about Barnabas, inspired by Roger Jones', 'Barnabas, the musical', performed in Cyprus in November 2016.
Six themes of prayer found in the bible, which involved watching a short video followed by discussion, (Source: 24-7 Prayer in collaboration with Alpha International)
Biblical covenants from Genesis onwards ending in the covenant of Grace brought about by Jesus, plus Jesus as 'prophet, priest and king'
The book of Acts of the Apostles

Some of the Psalms.
Please see our 'What's on' page for details of the next meeting.